Stan Sakai's Usagi Yojimbo is one of the most iconic modern comics characters of the past quarter century and is a perennial favorite amongst young boys and adult fans. Usagi Yojimbo chronicles the action-packed wanderings of a masterless samurai (a "ronin") in feudal Japan — as told with funny-animals. (If PIXAR and the late Akira Kurosawa were to collaborate on a movie, it might very well look like this.) For the first ten years of his career, the battling bunny was published by Fantagraphics Books. This slipcase set collects that entire run (previously published as seven trade paperbacks). With over 1000 pages of story, this is the complete, definitive, early Usagi. This Special Edition will also brims with extra material, including a complete full-color gallery of the more than 50 Usagi covers from that period; preparatory sketches, including Sakai's original first draft of the "Samurai" story; two "non-canon" Usagi stories by Sakai co-starring the Teenage Mutant Ninja Turtles (with whom Usagi also shared screen time in the TMNT TV series); the rare behind-the-scenes "How I Draw Usagi Yojimbo" strip; Introductions by Stan Sakai and Stan Lee; and a feature-length, career-spanning interview with Sakai.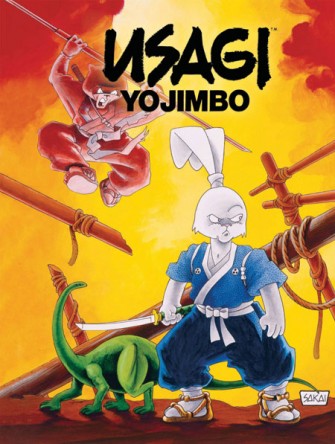 The slipcase art for the hardcover edition.
The book art for the hardcover edition.
Contains the following collections: